1. The official countdown to WPPI is on!! Only 4 more days!! I am SOOOO excited. My photog pal Jenny is coming and we are staying at a hotel down on the strip. I can't wait! For those of you who have no idea what I'm talking about, WPPI is a photography convention and trade show!
2. I facebooked this earlier this week about how I was picked as a favorite for the weekly I♥Faces challenge. You all saw my post last week with Bonnie and the Pet Shops. I was pretty excited, I didn't think I would be picked! I would like to thank the little people!! Just kidding, It's not really that big a deal but there were 890 other entrants in the contest!! I wasn't in the top 10 but I was a favorite pick!
3. I am really proud of us as a family! We made it through the entire month of February without missing a single Family Home Evening!
4. I have a new found love. Chocolate Jimmies. I had a chocolate shake at Red robin the other day and it had whipped cream and those fabulous little bits of chocolaty goodness on top. I made myself a shake Sunday night with some yummy's and whipped cream on top! DANGEROUS!!
5. Terry is the best Daddy in the whole world. When ever we take the kids to a restaurant he always does the games on the kiddie menus with them. He has since they were little. As part of the new birthday tradition I spoke of in Sam's birthday post we took her out to Red Robin (whom I now blame for the addiction I have to chocolate jimmy's) and I snapped this shot as they played tic-tac-toe!!
6. I will be SO happy when Junior Festival is over! i am so tired hearing the same 5 stinkin songs OVER AND OVER!! I hope I can handle all 4 kids while I 3 of them participate at 2 different locations on the very same day while Terry is dealing with Youth Conference!
7. I cleaned my scrapbook desk off this weekend and it made me really miss scrapbooking. Anyone want to come and scrap with me? You can see the cleaned up desk in my last post at the very bottom right!
8. I dripped strawberries in chocolate for my kids lunch yesterday. I though I would be such a big hero for such a special treat but yeah, not so much! They were like "eh they were ok" You win some you loose some!
9. I WAS the big hero on Saturday when I made shape pancakes for the 3 youngers while Terry and Brett were on the campout. You can also see a picture of that in my last post.
10. I refilled my sugar canister this morning and I spilled a little on the counter. The kids left for school and when I went to clan up the spill this is what I saw...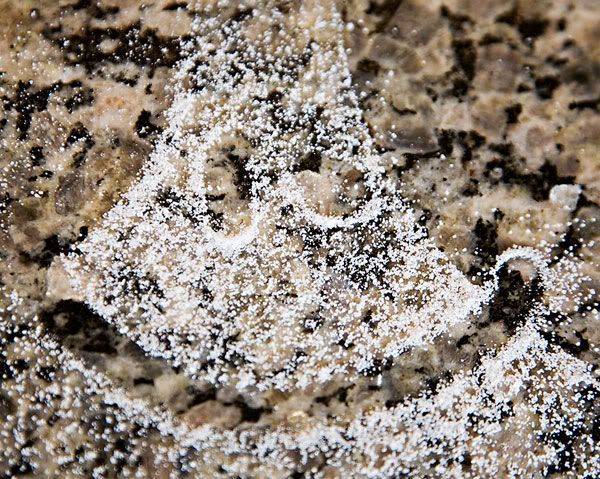 That Samantha, as hard as she may be she sure knows how to make me smile!! Have a fabulous Tuesday!