Today is my Dad's birthday. HAPPY BIRTHDAY DAD! I can wish him one from right here because he is probably my most faithful reader. He even called me to repentance on not blogging for 2 weeks when I was in Oregon. When I asked my mom what to get for Dad for his birthday (because he is literally the hardest person to shop for. If he want is he buys it!) she said, just find a way to remember and make it special. Well I don't know how special this will be but I'll give it a try. And for some reason I could not find any recent pictures of him except for these two.
**note to self take more pictures of people other than you kids**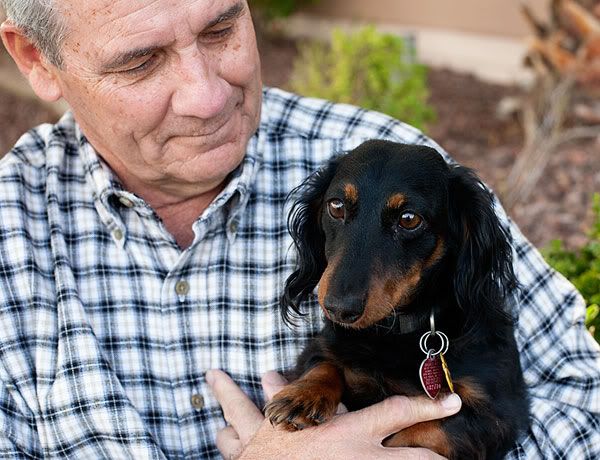 My dad and I haven't alway had what you would call a congruent relationship, well, just through the teenage years anyway. I had a bit of a, what would you call it, well, a mouth on me that my dad didn't care for too much, what dad would? I managed to make him turn purple on a number of occasions. You see I always had to have the last word. That meant that when he would say "NOT ANOTHER WORD" I would follow up with "FINE" which would then consequently follow with a purple faced dad. I eventually grew out of that little phase and soon there after became the favorite of his children!!
My Dad has been serving as the Bishop of the Willow Springs Singles ward for the past 3 years and has recently been released. I am so proud of the spiritual giant He is. It was so wonderful to watch his love for those he ministered to grow to innumerable proportions.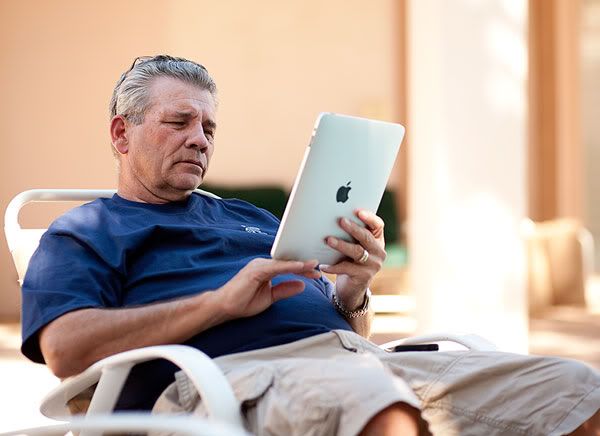 15 Things about my Dad you may or may not know...
1. My dad wields a mean golf club.
2. He is generous beyond measure.
3. He is pretty computer savvy for an old guy (note the iPad he's figuring out in the above picture)
4. He loves my mom so much (don't believe me just friend him on facebook, but be forewarned he gets a little sappy!)
5. He is a lover of pretty much anything with wheels, and has a hard time holding onto a car for more than 2 years!
6. I used to be his riding buddy on the back of the Harley's when I was young (that was about me but it says something about him that he put up with having a mouthy teenager on the back of him. Come to think of it maybe that's why he like taking me riding, because he could spend time with me without having to hear my mouth!)
7. When he was my Sunday School teacher he used to teach us about Luke 7:11 and Brother Winchells often subbed!
8. He has for as long as I can remember, woken up before the sun. Even when he has no where to be!
9. He is a great Gramps!
10. He always does the dishes after any meal!
11. He cooks bacon PERFECTLY!
12. He is the funnest to take shopping because he buys stuff! My favorite was when I was younger and my mom jacked up her leg in a skiing accident and Dad had to to the grocery shopping, you could throw anything in the cart and he wouldn't say anything!
13. He used to run marathons before he destroyed his knees from running outside!
14. He has a twin sister (Hey Aunt Muff-Happy Birthday)
15. He is loved greatly my all of his children and grandchildren.
Well HAPPY BIRTHDAY DAD!! I love you!