Words cannot express how much fun I had this weekend aside form the crappy wind, with my fellow photog friends and Miss Wendy Schulz my teacher and mentor! I learned so much and laughed even more. Flash off and on camera is really hard for me. REALLY HARD!! Well when you are going for drama and high contrast it's not that hard but to get consistent natural looking beautiful light from an external source is tricky and there are so many factors involved. Obviously because i was learning a new skill i wasn't really paying attention to my other skills pertaining to photography but I wanted to put these pictures up so I can remember the good times had on our flash weekend.

I would like firstly to introduce you to the amazing Wendy. For all of you that have sent me emails asking if i took classes, I took an advanced class online with Wendy and I also did a 2 month mentorship with her last summer. She is such a wealth of knowledge. She reads something once somewhere and it sticks like super glue. Oh how I wish I had this skill. If you are interested at any level to improve your photography I would highly recommend taking a class with Wendy. More info on her here.
Not to mention she has the bad-A photog stance down!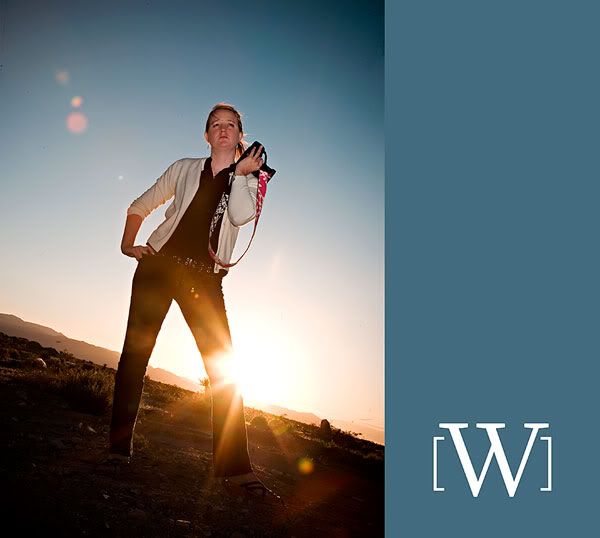 There were 4 other girls who came and stayed at my house for the duration of the weekend workshop. Jenny whom you may remember from my WPPI posts form California. Lesli who traveled all the way from across town in Henderson, She even camped with us because it really is a long drive!! Kelly who came from Colorado and Kari who came down form Elko(who still need to give me her blog address.) These women were so fun and some of them were even up for a bit of toilet papering Heather, another Wendy Alumni that lives here but had already taken the flash class so she only made it to dinner with us on Friday.
It's really cool to be able to take pictures with a flash and not really be able to tell that any artificial light was used. Numbers 5, 7, 8 & 9 are natural light the rest are on and off camera flash. Now I just need to get out an practice, practice practice! The wind as I said before was horrific and so we had a bit of a hard time keeping the equipment from blowing over but we got some cool shots!





Well if you couldn't tell by my excessive blabbering about how much fun we had I'll say it again I had so much fun and got way too little sleep, that seems to happen when I'm hanging out with Jenny, she's so fun!!I think I'll blame her!