I had the opportunity to head up to Provo to attend BYU Women's Conference with my Mom, Sister and Aunt Shosh!! We had too much fun, visiting laughing and best of all eating. I just love food and we certainly had good food.
*You don't need to read this, it's just for me*
Our Itinerary was as follows:
Wednesday
12:00 p.m. Leave Kristin's house for Provo
1:30 p.m. Pick Up Aunt Shosh
5:30 p.m. Dinner at Los Hermanos YUM!
7:30 Check In at hotel
11:00 Bed
Thursday
6:30 WakeUp
7:45 Breakfast
8:30 Opening Session at Mariott Center
Classes until 3:00
Shopping at distribution Center
Shopping at Kohl's
Dinner at P.F.Changs
Movie :17 Again TOO CUTE!
Then back to hotel and visiting until 11:00p.m.
Bed
Friday
7:45 Wake Up
Skip opening session
Breakfast at Cougar Eat
10:30 Classes until 3:00
Dinner at Brick Oven YUM!!
Shopping at BYU Bookstore
Back to hotel
10:40 visit from hotel management about noise complaint
11:30 Bed
Saturday
Come Home
I had a wonderful time going to classes and feel totally spiritually rejuvenated. I learned a lot but mostly I was reminded of what is important and that is to keep Christ in our daily lives. I have come home with a new goal to simply FIND JOY IN MOTHERHOOD! That is something I struggle with on a daily basis. I have a tendency to get caught up in the mundane things of daily life and forget about Joy, and what it truly means to be a mother. I need to remember that I WANTED THIS!! But enough of my ramblings. If you ever get the opportunity to go to Women's Conference Do IT, it is worth ever thing you have to sacrifice to get there. I also have to say most of the sacrificing came from my dear hubby, he was so good to take care of kids, shuttling to lessons and what not, I so appreciate him for giving me this opportunity!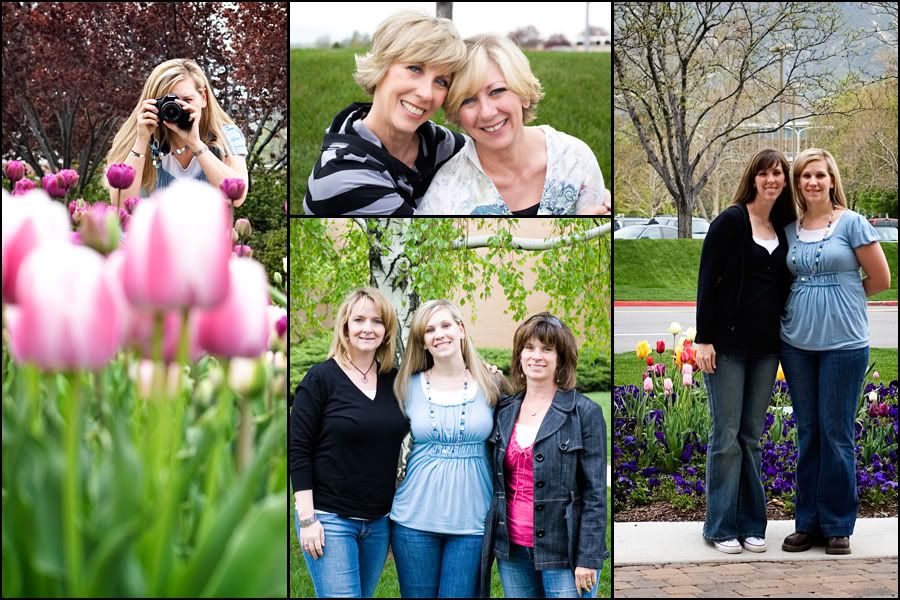 Staci got a new camera and followed suit when i jumped out of the car to get pictures of the beautiful tulips blooming everywhere. Sheri and our friend Lisa were also there so I grabbed a quick shot under this awesome weeping willow tree.
There is on average 17,000 women that attend womens conference each year, with numbers growing. I took this shot of the opening session on thursday, it is quite a site to see that much girl power all in one place.