The Clark County Fair was this weekend and after talking to Shannon she said I needed to submit some things for photography to be judged at the fair, I also remebered that My Gram has put in her crocheted dresses into the washington county fair. So I decided to put in a dress and some photos. I won Best of class for my dress. Grammy is so proud!!
Dallin did Mutton Bustin and did so great. I think Lisa was too excited to get any pictures but luckily Terry had a good spot and got these great shots. It was so entertaining and he won $5!! I think the crowd cheered the most Dallins run because he had the most exciting sheep!!

Mark and Melanie Larsen Came down from Bountiful to stay during spring break. they stayed at our house on thursday and we all headed up to the fair together. Sam, Jono and Maddy got to do a pony ride

Sam wanted to Ride the Bull, it was pretty funny, they mae it go way to slow so Terry told the guy to speed it up so it would throw her. It was pretty funny.

And noe for the crushing blow. When Terry and I toolk the kids out to Nelson a few weeks ago, I was utterly frustrated by the end and Terry grabbed my camera to take some shots. I encouraged him to enter the picture he took along with mine. It was probably the best shot of the day between all the the ones he and I took. When we walked into the hall where the exhibits were right when you walk in there is the wall with all the winners. I had previously joked with terry that his 1 photo would probably win and i would get nonthing with my 6 other photos. Well I was right. He won 3rd place! I have always know he liked photography and has a talent for it but it is a bit of an ego blow when most of my time and energy that isn't going into my job as a mom goes to photography. I read books, take classes and am constanly trying to improve my craft. I am really proud of him though. Here he is with his white ribbon.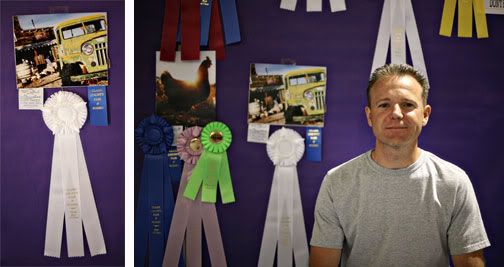 This is the actual shot. Good job honey, but I ain't handin over my camera just yet. Next year, Babe-You....Me, clark county fair, It's ON!!!!!